Welcome to Ancient Izumo
The Shimane Museum of Ancient Izumo preserves and displays an extensive collection of artifacts related to the history of Shimane Prefecture—particularly the region known as Izumo. Often called the "land of the gods," Izumo is one of three former provinces that make up modern Shimane. Izumo features prominently in some of Japan's earliest written chronicles, and the region holds considerable significance in the mythology and early political history of Japan.
Three themed exhibitions explore the spiritual traditions and culture of ancient Izumo. The first exhibit focuses on Izumo Grand Shrine, just west of the museum. Together with Ise Grand Shrine, Izumo Grand Shrine is one of the two most prominent Shinto shrines in Japan. It is said that early versions of the shrine's main sanctuary (honden) may have reached 48 meters in height, and the various models displayed in the gallery represent attempts by architects to reconstruct the appearance of this structure. The museum's second themed exhibit recreates daily life in ancient Izumo through the lens of an eighth-century text called the Izumo no kuni fudoki (Gazetteer of Izumo Province). The third exhibit displays a massive trove of bronze swords and bells dating from the Yayoi period (800 BCE–300 CE). Unearthed at two archaeological sites in the Izumo area, many of these artifacts have been designated National Treasures.
The museum's general exhibitions focus on the history and culture of the greater Shimane region. The displays cover prehistoric through modern times, and a wide range of topics, such as the region's distinctive style of burial mound, the development of tatara iron manufacturing, and the role of ancient Izumo in the mythological origins of sumo wrestling.
Visitors can learn about the mythology of Izumo in the museum's Corridor of Myth and Legend, and the Mythology Theater shows a rotation of four short films throughout the day. Electronic devices providing English summaries of the films are available.
An information center, lecture hall, museum shop, coin lockers, and wheelchair-accessible restrooms are located on the museum's first floor. There is a café serving light meals and beverages on the second floor, and an observation terrace with views of the Kitayama mountain range on the third floor.
(This English-language text was created by the Japanese Tourism Agency.)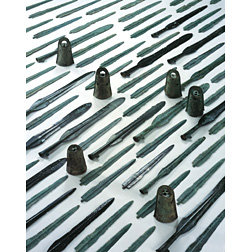 Bronze implements from the Kojindani site
(national treasures)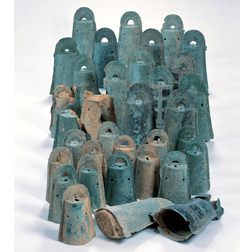 Bronze bells from the Kamo-Iwakura site
(important cultural properties)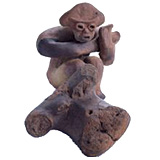 Clay figures
( the Shimoyama site )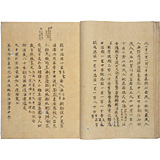 A manuscript of
the Izumo fudoki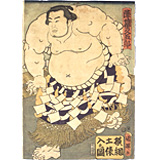 Woodblock print of the Sumo wrestler : Jinmaku-Kyugoro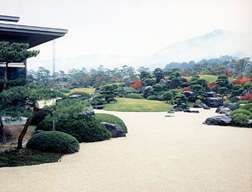 Adachi Museum of Art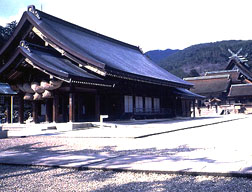 Izumo Grand Shrine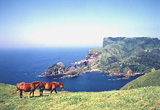 Kuniga Coastline

lake shinji


Inquiry